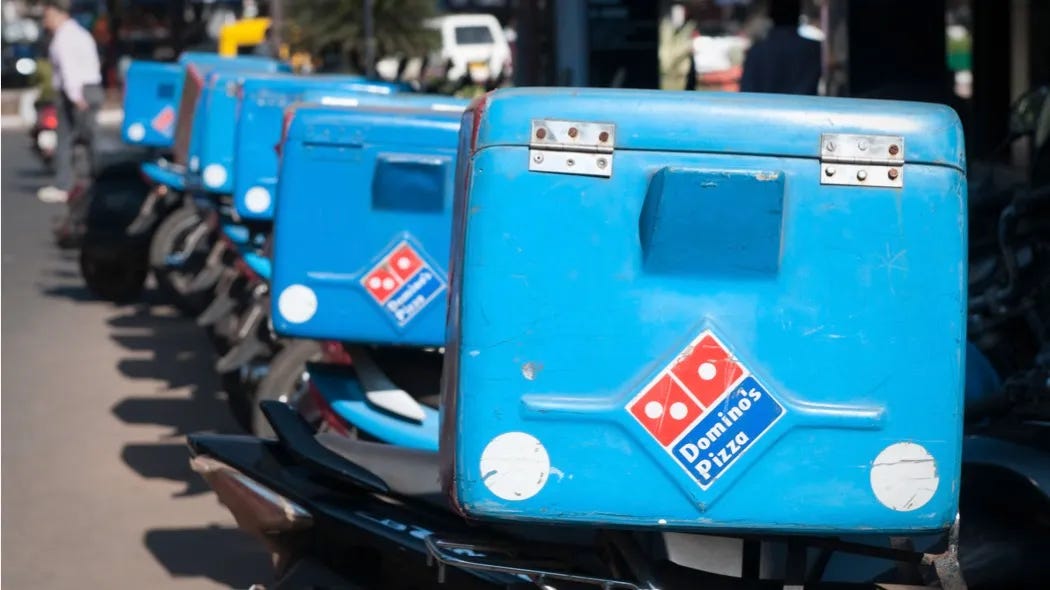 UPDATE 17/08/2022 : a recent reveal from Food Service Web shed some light on the failure of Domino's in Italy
Domino's shut down operations in Italy and all I see is international newspapers rushing with the headlines "Italians reject the American pizza chain". Thus implicitly or quite explicitly saying that we sort of kicked them out of the country, throwing at them rings of pineapple.
It doesn't help that Italian reporters, or foreign reporters living in Italy, have asked people around what they thought of the closure: of course the majority said "serve them right" or "how did they even think of trying"? By the way, this is the same tenor of comments you would see under YouTube videos from people all around the world.
Though I like the fact that we Italians have this sort of legendary halo of brave guardians of our holy food traditions, this is far from being true in this case. Domino's Pizza was accepted and welcome in Italy, at least by their customers, and for many of them it will be sorely missed.
The legend that Italians get mad at pineapple pizza – and, in general, any act of desecration done on our pizza – is something I already debunked in a previous article. But here I'd like to focus on what really happened, starting from the inception of the pizza chain in our country to its demise.
This article comes from a piece in my Substack newsletter called The rise and fall of Domino's in Italy. At first I thought to keep it only for my subscribers. But after a couple of days of seeing the news being dealt with superficiality, I felt obliged to publish it here to a (hopefully) wider audience. After all, this is a blog on pizza culture in Italy.
If you're curious about future content like this one, please consider subscribing to my Pizza DIXIT Substack newsletter to receive articles like this directly in your inbox.
DOMINO'S PIZZA IN ITALY: HOW IT BEGAN
The Michigan-born pizza chain opened its first store in Italy in 2015. Unsurprisingly, they chose Milan as the base to set up the business. If you're familiar with the city, you know that Milan is the hub of business and communication in Italy, thriving on an international community of open-minded people ready to embrace every new trend. Also, it's a jungle of workers, students, artists and a lot of other categories of people too busy to survive to think about making food for themselves. A pizza delivery service was the answer they needed.
It might be strange to think of it today, but food delivery apps were not a thing in Italy back then. Deliveroo, born in London in 2013, was in its infancy. And Milan is not Naples, where the pizza delivered at home is considered a fundamental right: if you wanted food you had to go buy it by yourself.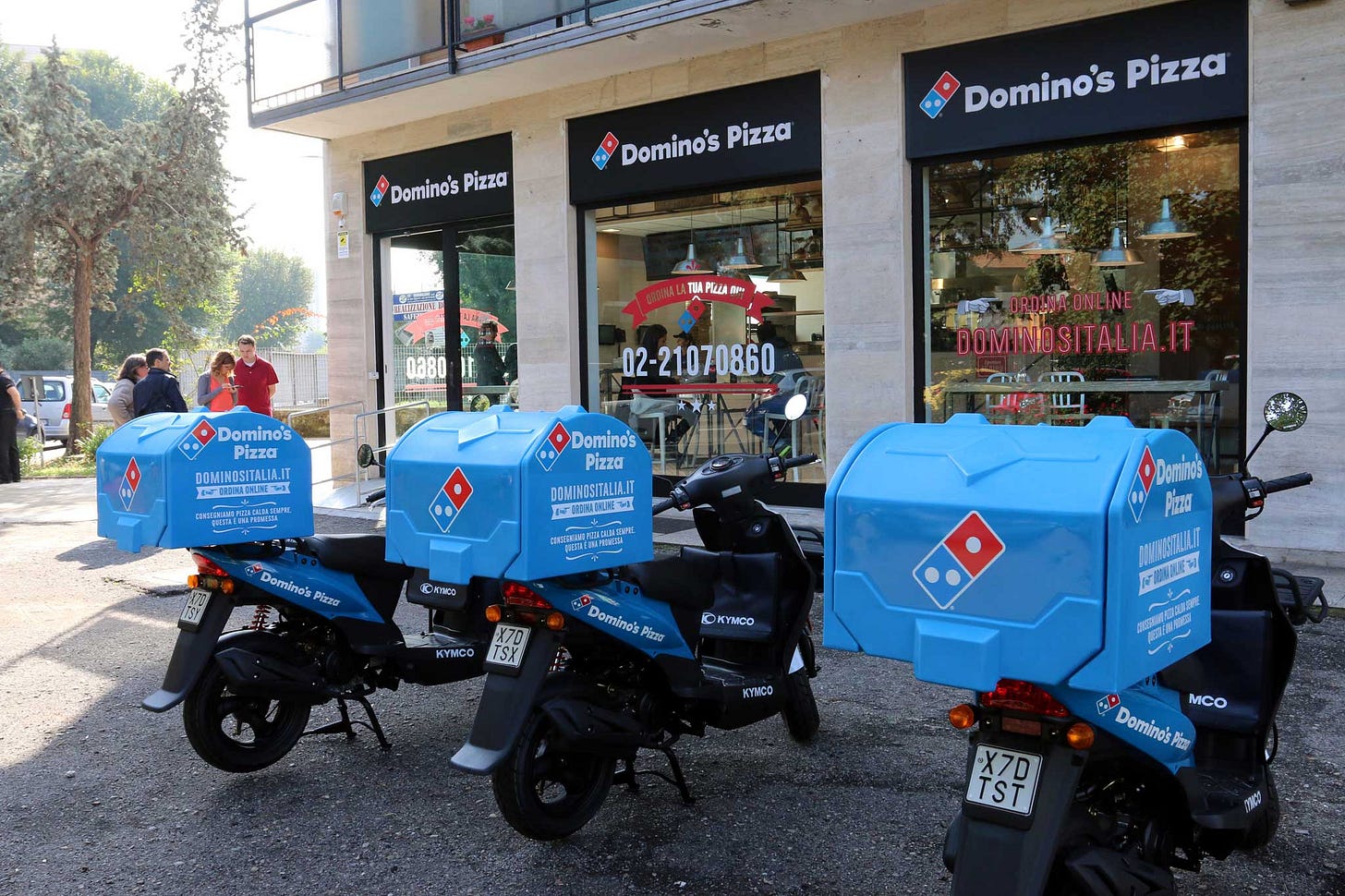 There was an untapped market that Domino's filled. In the following years the company – which in Italy was managed by ePizza, a company founded with the purpose of developing the brand in the country – opened a total of 29 stores. The majority of them located in northern Italy, in cities like Turin, Bologna, Modena and Bergamo.
In November 2019 CEO and co-founder Alessandro Lazzaroni made a bold statement: "880 stores in Italy by 2030" (by comparison, the UK nowadays counts around 1200 stores). In October 2020 they announced the opening of three stores in Rome (but with no intention to go further south, guess why not…).
Then something started to go wrong.
In December 2020 Lazzeroni resigned as CEO of Domino's Italia to go leading the franchise of Burger King in Italy. He left a company with 10.6 million euros ($10.8 million) of debt.
Last April the company filed to the tribunal of Milan the request to have their company assets protected from any aggression by their creditors for 90 days, according to an Italian law decree (118/2021) that helps companies in crisis to require an external consultancy in order to get back on their feet, instead of declaring bankruptcy right away. The request expired on 1st July, and there have been no more updates on the process.
On 20th July, all the remaining 11 stores ceased operations all of the sudden. National and international newspapers have tried to reach a spokesperson for the company but with no results. Domino's Italia has just disappeared from the scene, silently, as they've never really existed.
WHY IS DOMINO'S LEAVING ITALY, REALLY?
According to the request filed by ePizza, the causes of the failure are to be sought in the crisis caused by the pandemic and the consequent increase of competitors apps like Deliveroo, JustEat and Glovo that have taken a huge share of the market.
Someone, though, is not convinced by the explanation (and neither am I, to be honest). Dario De Marco, on Dissapore, wrote:
On one hand, it could be argued that Domino's should have exploited the advantage of those who first occupied a sector and mastered its technology, had it been in good health and with an excellent reputation on the market at the beginning of the pandemic. But above all, you can see one thing, rereading the numbers carefully: 29 points of sale at the peak of success, and after 5 years of activity, certainly do not tell of a triumphal ride. For an industrial chain that has its strengths in widespread distribution and high numbers, these are modest figures.
De Marco also underlines how a local pizza chain like Pizzium – established in 2017 – can now boast 31 restaurants; whereas the famous Neapolitan pizzaiolo Gino Sorbillo has his name tied to a bit less than 20 restaurants around the world. To these two names I'd add other successful ventures like Rossopomodoro, Berberè e L'Antica Pizzeria Da Michele.
The easy explanation could be the one that every Italian can't help to express out loud with a smirk on their face: "Domino's sucks! How they could even think to bring their sh*tty American pizza to our territory and survive??".
And yet, it's not that simple. Dozen of customers have flocked to the latest post (dating back to 13 July) on the company's Facebook page complaining about the sudden closure of the stores, asking and wishing for a comeback (with the social media manager keeping promising "we'll be back soon" before going AWOL). The reviews on TripAdvisor are mixed, but the very bad ones only rarely rate the quality of the pizza: instead, they report huge delays in the service.
After all, Lazzaroni has claimed from the beginning that Domino's pizzas in Italy would have used only local, certified hi-quality ingredients, like the Prosciutto di Parma DOC, the Buffalo Mozzarella PDO, the Grana Padano PDO, and so on… On the other hand, though, their menu also displayed American classics like pepperoni pizza and pineapple pizza. If those encountered or not the favours of the Italian people, I can't say, as I don't have data to support any theory. But the fact that those pizzas never left their menu in 7 years makes me think the sales were not that bad.
A recent reveal from Food Service Web comes from the anonymous statement released by one of the former employees suddenly left without job: Valentina, as she calls herself, says that the announcement was issued out of the blue by email. She also talks about a possible investor that could be able to pay off the debts and open again some stores of the company. Valentina also disproves the statement that the company's sales were struggling due to the pandemic: apparently, they were selling a regular number of pizzas. Another sign that Domino's failure in Italy is most probably a case of bad administration, not a cultural clash with the food habits of the Italian people.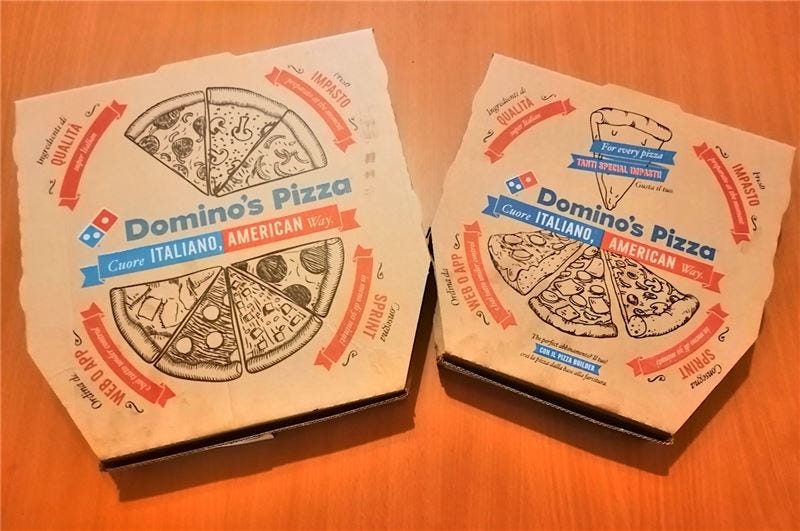 Then again, what Domino's customers loved the most was not the pizza itself: it was everything that has made the chain so strong in its market in the latest years. The UI of the app. The possibility of creating your own pizza. The 20 minutes delivery promise. The customer service. The ever-running promotions that made every order affordable. And a product that might not be your average Italian pizza, but was conceived to survive a ride to your home, ready to be eaten still piping hot out of the box.
Living in Naples, I didn't unfortunately have a personal experience with Domino's in Italy (although it's always been my favourite American pizza chain during the times I lived in the US and the UK). But a great declaration of love has been done by a contact of mine on Facebook, followed by many comments of appreciation that show there's actually space for a product of that type in our country.
And that brings me to a question: now that Domino's has left a void in the market, will another American pizza chain try to take its place? Or the failure will be seen abroad as a warning for other companies not to mess with Italian food habits?
My opinion is that, when it's down to comfort food, there are no Italian traditions that can create a real barrier. The experience of McDonald's, Burger King, KFC, Starbucks, although through highs and lows, can tell a lot. And at the end of the day, all you need beyond the product is a well-reputed authority and a good business plan. Personally, I wouldn't mind seeing other pizza chains trying.
Just do not come to Naples. To quote Walter White: "Stay out of my territory".